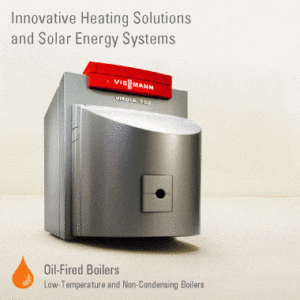 The Viessmann Group is one of the world's leading manufacturers of heating technology – and Europe's best selling brand of floor-mounted boilers. Worldwide, the name Viessmann stands for expertise and innovation, and it is our product of choice at Gagnon.
The same expertise and innovation that has made Viessmann the best-selling brand of floor-mounted boilers in Europe is also evident in North America.
Viessmann offers a complete range of high-tech, state-of-the-art heating products, each a design-matched component in the progressive Viessmann system technology.
Despite their diversity, Viessman products have one thing in common: a high standard of quality throughout the entire product line that translates into operational reliability, energy savings, environmental friendliness and operational comfort.
Viessmann boilers are proof that low-temperature technology, just like condensing technology, is not always the same. It all depends on how it's done and what you make of it. Viessmann is always at the forefront of leading-edge technology and design innovation.
Viessmann recognizes its duty to society to supply energy-saving and environmentally friendly products. Like Gagnon, they are committed to "clean" production, material utilization and waste management. It is the first of their 10 company principles.
To learn more, visit Viessmann Heating Solutions or call us at Gagnon